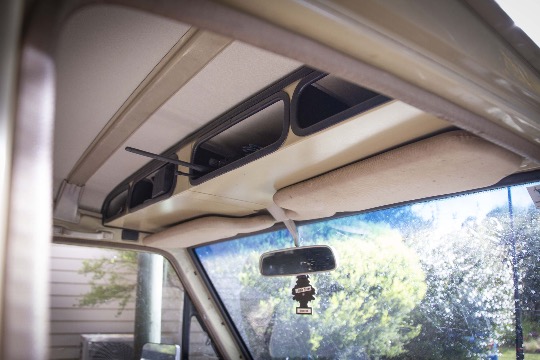 Troopy Roof Console
Suits 75 & 78 Series, 1985-2021, - Free Shipping Australia wide
Are you trying to find a roof console for your troopy that won't cost a fortune or seem out of place? You've found it! I appreciate the difficulty of locating a useful and practical console to go with your troop carrier. That's why I designed a straightforward, stylish console that adheres to the Troopy ideal of being practical and useful.

This console was designed by 3D scanning the roof of my Troopy and creating a practical and minimalistic unit. It's made of steel and weighs less than a typical timber and vinyl console, with no wasted space due to material thickness. The design allows for easy customisation with pre-existing cutouts in the ribs for wiring and options for mounting with bolts or springs. The best part? The console can be installed in just 5 minutes and securely holds itself in place, with the option to bolt it in for added security (J bolt hardware is included in all kit options).
Want to add a switch? Just drill a hole. Want to mount a UHF? Just bolt it in. Want to make doors to secure a section? Just rivet some hinges on and go for your life! Finally a console that's as modular and customisable as your Troopy itself.
A straightforward, practical, repairable console option that looks excellent in your Landcruiser is here.

This console fits the Toyota Landcruiser Troopcarrier, 75 Series and 78 Series from 1985-2021 and is available in White, Sandy Taupe or Midnight Blue for our Bloopy friends.
-Taylor

Free Shipping, anywhere in Australia via courier!
Welded and Ground

Laser Cut from 1.6mm Steel

Light and easy to fit (5 minutes)

All steel parts fully assembled

Ready for paint, pinch weld and whatever finishing you'd like!

Ready to Fit

Laser Cut from 1.6mm Steel

Light and easy to fit (5 minutes)

Fully painted and finished unit (like photos)

Available in white, blue or sandy paint job!