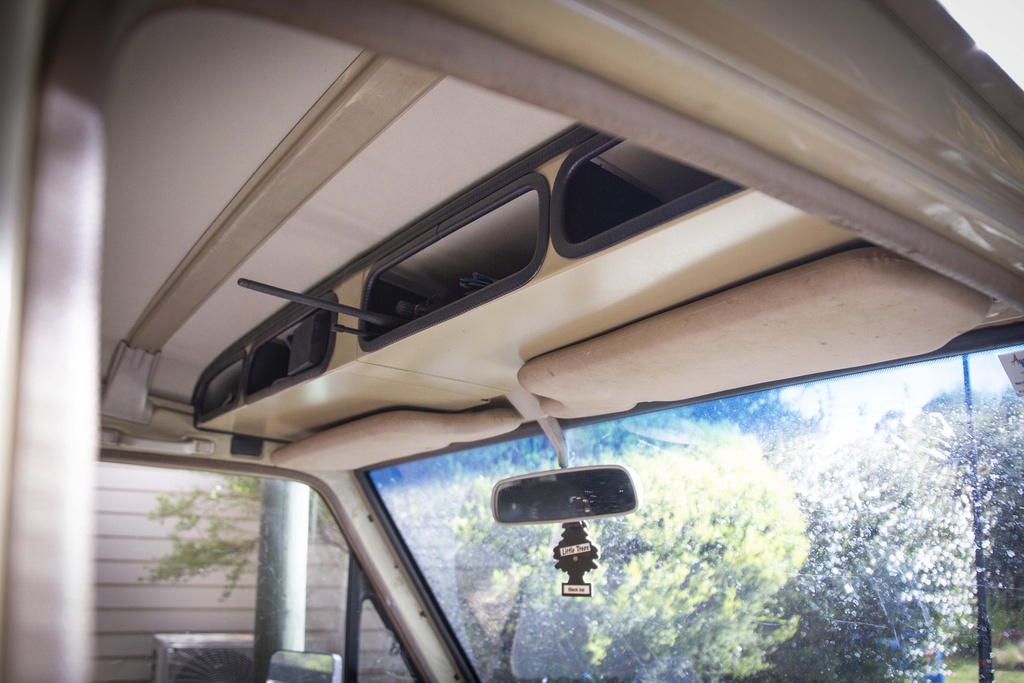 Troopy Roof Console
Suits 75 & 78 Series, 1985-2021 (unsure of 2022 update fitment)
I've always wanted a roof console in my Troopy - but the options available on the market were far too expensive! And I'm not a fan of the padded fake leather / vinyl thing... I mean, it's a troopy not a Y62 Patrol...
Being a fan of hard surfaces and steel, I decided to 3D scan the roof of my troopy, and design a simple practical console. I'm really happy with how it turned out, it looks great and fits the ethos of the Troopcarriers - it's pragmatic, simple and functional. If it scratches you can repaint it. If it needs switches or buttons added you can drill a hole and mount them. I've allowed cutouts in the ribs for wiring, and two different options for bolting the unit in place (one on the back under the sun visors which uses an J bolt to hook in place, and one using springs that hold it back into position. It even weighs less than a timber + vinyl one with zero wasted space. (All the steel weighs under 4.5kg)

The unit can be installed in 5 minutes... it just fits into place and holds itself there (I've had mine installed for 6 months or so and I've still not bolted it in place, it's just sitting there very securely) But I'd still suggest bolting it in (J bolt hardware is included in all kit options)

Below are some pics and details, If you like it and you think one would do well in your troopy - then please consider one of the options below, depending on your level of DIY desire!
-Taylor

DIY Kit

Laser Cut from 1.6mm Steel

Light and easy to fit (5 minutes)

All steel parts, ready to assemble

Ready for you to weld, glue or sticky tape together!

Welded and Ground

Laser Cut from 1.6mm Steel

Light and easy to fit (5 minutes)

All steel parts fully assembled

Ready for paint, pinch weld and whatever finishing you'd like!

Ready to Fit

Laser Cut from 1.6mm Steel

Light and easy to fit (5 minutes)

Fully painted and finished unit (like photos)

Available in white or sandy paint job! Using automotive acrylic paint